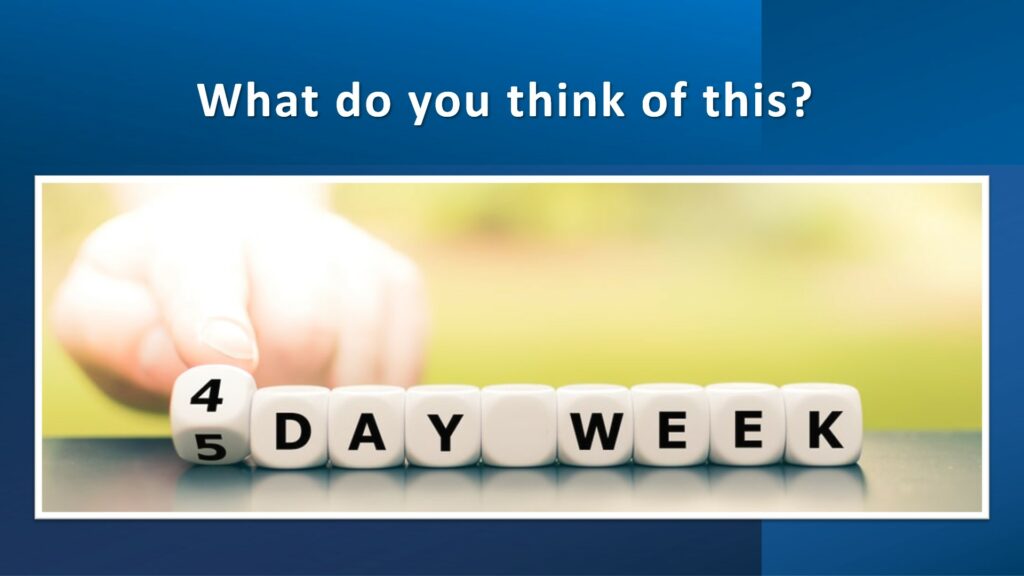 I was recently on a Zoom call with a Customer Success Manager who declared he doesn't schedule meetings on Thursdays because he has a 4-day workweek and Thursday is his during-the-week day off.
For physically demanding jobs, 4-day workweeks, even 3-day workweeks, can be common, since more time is needed to rest from the more grueling manual labor.
But white-collar jobs?
In case you think this is only the case with the most progressive companies, think again.
In an article published this year, TechRadar noted the 4-day workweek was among the 9 biggest work trends of 2022. Sure, work-from-home and better pay and benefits were among the 9… and that probably surprises no one. But the 4-day workweek?
The TechRadar article said that "while plenty of people love the idea of having a three-day weekend as part of their routine, trials and studies do show that moving to a four-day week can often prove beneficial for both staff and companies.
"Microsoft Japan," Mike Jennings, the article's author, went on to say, "trialed a four-day work week back in 2019 and found that it led to a 40% boost in productivity and 23% less electricity consumption."
The article also cites studies in New Zealand and Iceland that found staff were both happier and more productive with a four-day week.
With an increase in productivity and employee satisfaction, it's hard to argue with the results, but obviously the 4-day workweek wouldn't be practical for every industry or company.
What about you? What do you think about the 4-day workweek? Where does it rank on your list of job priorities?
– – – – –
#4dayworkweek #employeesatisfaction #humanresources #jobseekers #careers #jobs #jobssearch #careercoaching #personalbranding #3dayweekend
– – – – –
Dave O'Farrell helps his clients shorten their search, earn more money, and get better results. He helps employers soften the blow when they have to let employees go by offering the very best outplacement service on the planet. Reach out to Dave through his LinkedIn page.