Testimonials from HR Managers
Here are some of our all-time favorite testimonials from human resource managers.
Outstanding Personal Service
When we had to let a key employee go, you went above and beyond the call of duty. On a night when the entire North Atlanta area was without power, the employee's car was in the shop, and the hotels were full, you stayed with her until she found a safe place to stay. The personal service you provided and the quick response time were critical as we transitioned our business.
– Rod Hewitt, Vice President of Human Resources
Unbelievable Needs Analysis
You did an unbelievable job understanding our needs. After I heard your needs assessment from our very first meeting, I said you understood our needs better than we did.  Another thing that impressed me was how you solved a problem that is common among outplacement companies. In my experience, hourly employees who participate in a workshop-only program seldom got a résumé. You found a way to do it; of 182 participants, 181 got a resume. The quality of your work is outstanding.
– Bob DeVed, Director of Human Resources
Project Management
You not only provided outstanding service locally, your project management skills had a very positive impact on our company, and our departing employees, nationwide.
– Leon Herron, Vice President of Human Resources
Unmatched Integrity and Follow-Through
Your integrity and follow-through are unmatched. When I was VP of HR at another company, you knew about the departure of my boss, and the company's president, before I did. You have always been able to handle confidential information with the utmost care.
– Fred Fratto, Vice President of Human Resources
Testimonials from Clients
And here are some of our all-time favorite testimonials from clients.
More in Three Days vs. Three Months
I have had the opportunity to utilize the services of both O'Farrell Career Management and [a large, well-known career management firm north of Atlanta]. Simply put, there is no comparison for what I needed to assist me with the transition to the next phase of my career.
Perhaps the best way to put it is that I got more in three days from O'Farrell Career Management than I did in three months from [the other firm]. As a resident of the south side, the 100-mile round-trip to [the other firm] was not conducive to my making frequent visits to their offices. If they were geographically reversed, I would make that 100-mile round-trip to use O'Farrell Career Management even if [the other firm] were five miles away.
– Boyd McKenzie
Head and Shoulders Above Larger Competitors
I attended Dave's workshop after having received outplacement services from other large firms. Dave's workshop is by far head and shoulders above his larger competitors. His workshops are focused, individualized and well-organized to help you to achieve the greatest impact in the shortest period of time. He is fun, creative, encouraging, very easy to work with, and he holds you accountable, which is very refreshing. I recommend his services to anyone who is currently in transition.
– Tom Jackson
Higher Salary in Four Weeks
I took your class when my campaign stalled. I'd used a large national outplacement company, but they didn't have the personal touch that you provide. The tools and skills that you equipped me with were instrumental in landing a great job at a higher salary – just four weeks after your workshop.
– Todd Cannell
A Waste of Time to Work With Anyone But You



Dave, as a follow up to our conversation over the weekend, I've accepted a job with a local company and I owe a great deal of my successful job search to O'Farrell Career Management. The two greatest benefits for my job search from your week-long workshop were "hero stories" and the practice interview.
The hero stories were invaluable for three reasons:
1. Developing hero stories (all 48 or was it 480??!!!) was tedious but the exercise caused me to realize just how many successes I've had in my career, and will continue to have. So the exercise prepared me for any interview and was a real confidence booster.
2. Distilling the stories into your recommended format of – here's what I did first, next I did so and so, and finally I did this and that – and that's how I achieved such and such … made it easy to stay focused on results – which is exactly what the interviewer wants to know.
3. Practicing the stories honed my skills to make succinct statements focused on the results I achieved.
Your course was the best value for my job search time and dollar. As you know, my former employer offered outplacement assistance with one of the large, national firms, but I told them I got so much from your workshop that it would be a waste of time to work with anyone but you.
Thanks again for all your assistance. God bless you with your ministry.
– Mark Pauly
The Yoda of Career Management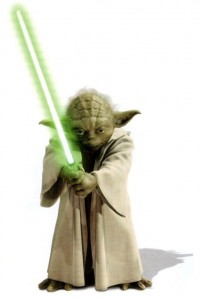 Dave is the Yoda of career management. We all wish for manuals, playbooks or "idiot guides" for difficult tasks. Well, Dave has the Super Bowl playbook for maximizing your career potential. Whether it is a job search or enhancing your professional marketability, he has the pearls of wisdom for you – and he shares them with energy and real-world examples. I have attended many professional development seminars but Dave's workshop was the best investment in myself that I have ever made.
– Robert Hites, CSP
# # #