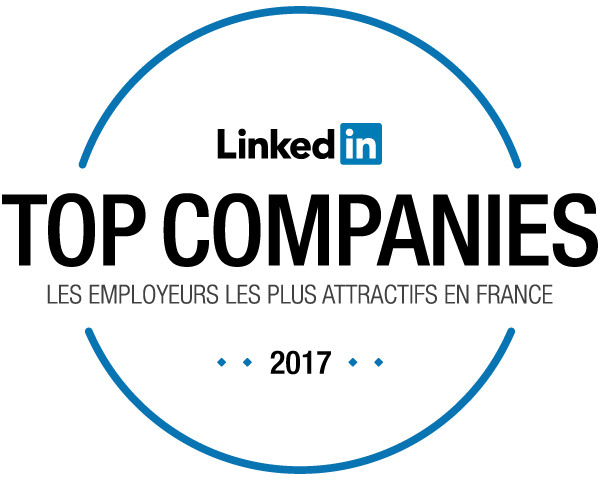 What are the most sought-after jobs in America, and what makes them so desirable? Today, LinkedIn released its list of the 2017 Top Companies in the country. "This is a list of companies where we know people want to work," said Dan Roth, LinkedIn Editor in Chief, during an interview on CNBC.
The 50 organizations were selected based on analysis of data from LinkedIn's 500M+ members. "Many of the companies on the list…are brands we know, like, and often even love," says Business Journalist, Suzy Welch. "This is not where people like to work, it's where they yearn to work."
So what are the qualities of these most desirable companies? Some are predictable – flexible work hours, a diverse workforce, innovative office environments, generous family leave and vacation time (many even have dog-friendly offices).
But Roth says there's something more in the data. "What we see constantly is that people want to work at places where they can take on hard problems."
Jobseekers are looking for opportunities to learn new ways of thinking and address important issues and causes. Today's workers want to be part of something significant and challenging. And the companies they yearn to work for are those where they can collect experiences to push them to the next level in their career.
To learn more:
The 25 hottest companies in America, according to LinkedIn
LinkedIn's top companies of 2017 reveal what employees really want
LinkedIn Top Companies 2017: Where the world wants to work now
The top 25 companies on the LinkedIn list:
25 – Capital One
Diversified banking company
24 – Adobe
Global leader in digital media/marketing solutions
23 – Stryker
Global medical technology company
22 – BlackRock
Investment firm and the world's largest asset manager
21 – JLL
Professional services and investment management firm with a focus on real estate
20 – JPMorgan Chase & Co.
A leading global financial services firm
19 – Visa
Global payments technology company
18 – CBRE
The world's largest commercial real estate services and investment firm
17 – Twitter
Social media platform available in over 35 languages with 316 million monthly active users
16 – Under Armour
Producer of specialized performance athletic apparel
15 – Workday
A leading provider of financial management, human capital management, and analytics applications
14 – Dell Technologies
An end-to-end computing solutions company
13 – McKinsey & Company
Global management consulting firm
12 – Netflix
The world's leading Internet television network
11 – Airbnb
A community marketplace for individuals to list and book unique accommodations around the world
10 – Comcast
A global media and technology company
9 – The Walt Disney Company
Entertainment company producing films, television, sports coverage and theme park attractions
8 – Time Warner
Global leader in media and entertainment including television networks, film, and TV
7 – Apple
Pioneer in personal technology including computers, phones, software applications and platforms
6 – Tesla
Producer of electric vehicles and renewable energy generation and storage
5 – Uber
A transportation network company that operates car and food delivery mobile apps
4 – Salesforce
Producer of social and mobile cloud technologies
3 – Facebook
Social media and social networking service with 1.9 billion users each month
2 – Amazon
An electronic commerce and cloud computing company offering merchandise and entertainment to clients around the world
1 – Alphabet
Parent company of Google, a multinational technology company specializing in internet services and products